Reviving the wild heart of Southern Scotland
Landscape scale ecological restoration and supporting local landowners and communities to add to the Wild Heart by rewilding land through access to funding and advice.
In 1996 Borders Forest Trust was formed to ​'Revive the Wild Heart of Southern Scotland'. On January 1st 2000 the first trees were planted at Carrifran Wildwood. Carrifan is a 1,600 acre ice-carved valley in the Moffat Hills in Scotland. Over the last few decades, Borders Forest Trust has worked to establish a wooded landscape with a rich diversity of native species that would have existed here thousands of years ago.
Since purchasing Carrifran, Borders Forest Trust has bought several more sites and worked with local landowners and communities to create woodlands of all sizes, working together towards ​'Reviving the Wild Heart of Southern Scotland'.
The land has been bought through the hard work of a dedicated team of volunteers and the help of many generous supporters. Borders Forest Trust are working to grow the woodland through a mix of planting and natural regeneration.
The Carrifran Wildwood is already home to returning wildlife, and has seen a particularly significant increase in bird life. Species such as willow warblers, chaffinches, blackcap, long-tailed tit, siskin, lesser redpoll and tree pipit have returned to the valley. Foxes and badgers are now common, and otters, stoats, weasels, kestrels, peregrines and ravens are all taking advantage of the restored landscape. These changes will soon be replicated across the Wild Heart.
In addition to this, Borders Forest Trust works with local children to inspire rewilders of the future. More information can be found in their recently published book ​'A Journey in Landscape Restoration'
The Borders Forest Trust, which owns Carrifran, also owns the adjacent Talla and Gameshope estate (1,800ha) and the nearby Corehead (640ha). Together they form an exciting, landscape scale ecological restoration project — The Wild Heart of Southern Scotland.
KICK-STARTING

REWILDING



Tree planting was undertaken as a local seed source for native trees was not available for natural regeneration. Tree planting utilised volunteers and specialist contractors to kick start natural woodland processes. Deer browsing was controlled using a boundary fence to exclude them from the project area.
Recently, planting has included restoring montane scrub – mountain woodland. This is one of the rarest habitats in the UK and has been virtually eliminated from southern Scotland through centuries of grazing.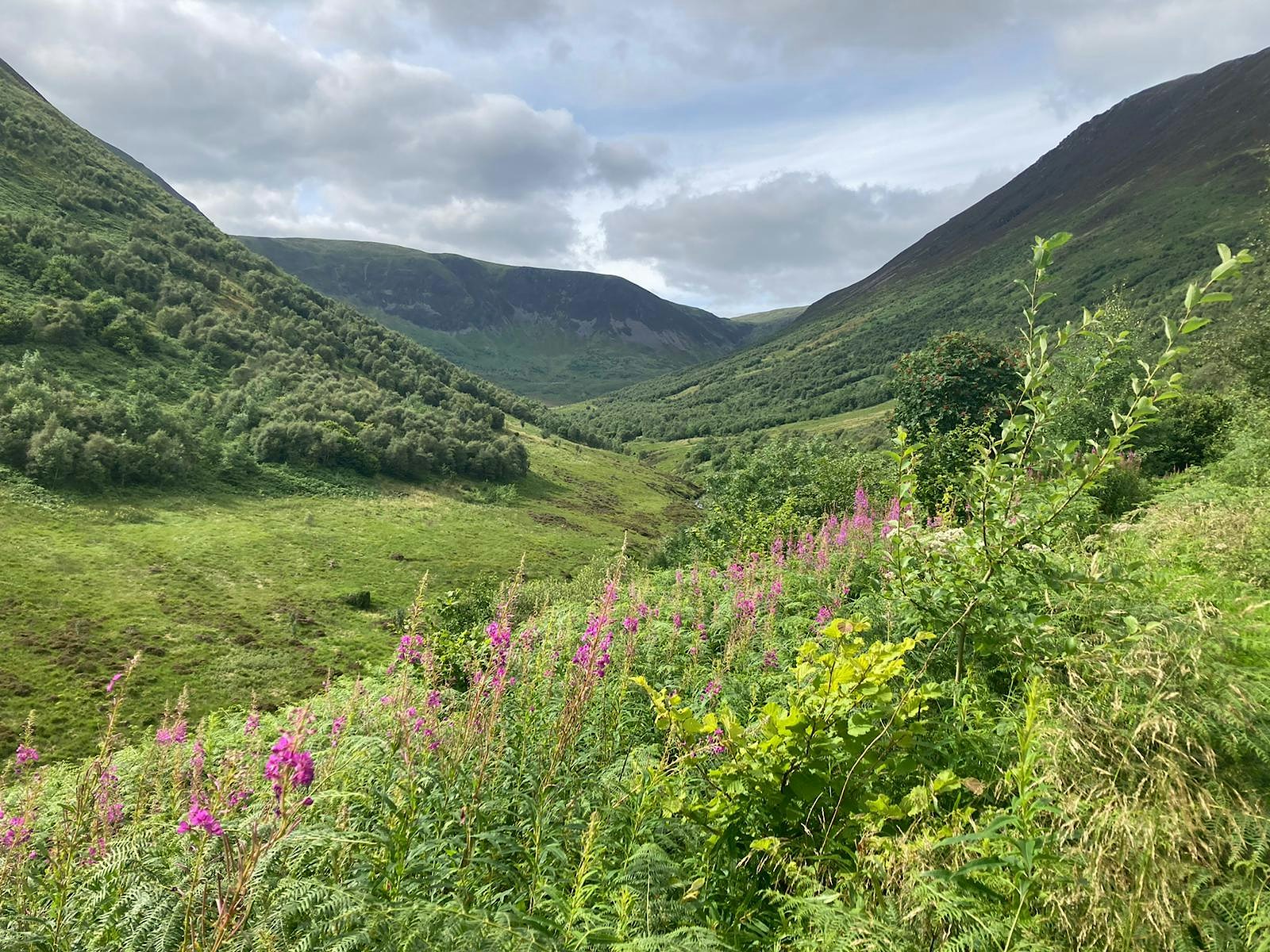 © Borders Forest Trust

© Border Forest Trust
future plans
Enrichment planting', that is filling in the gaps left by dead or dying trees
Planting more shrub species such as hawthorn and hazel
Re-introducing plants such as honeysuckle and ivy, and continuing to expand our areas of montane scrub
Continue to connect restoration with other projects as part of the Wild Heart of Southern Scotland
Continue to expand educational programme in restoration and rewilding
The Rewilding Network
Reviving the wild heart of Southern Scotland is part of our Rewilding Network, the go-to place for projects across Britain to connect, share and make rewilding happen on land and sea.
Discover the Rewilding Network