Mar Lodge
Beautiful regenerating pinewood in the heart of the Cairngorms National Park within the largest National Nature Reserve in Britain.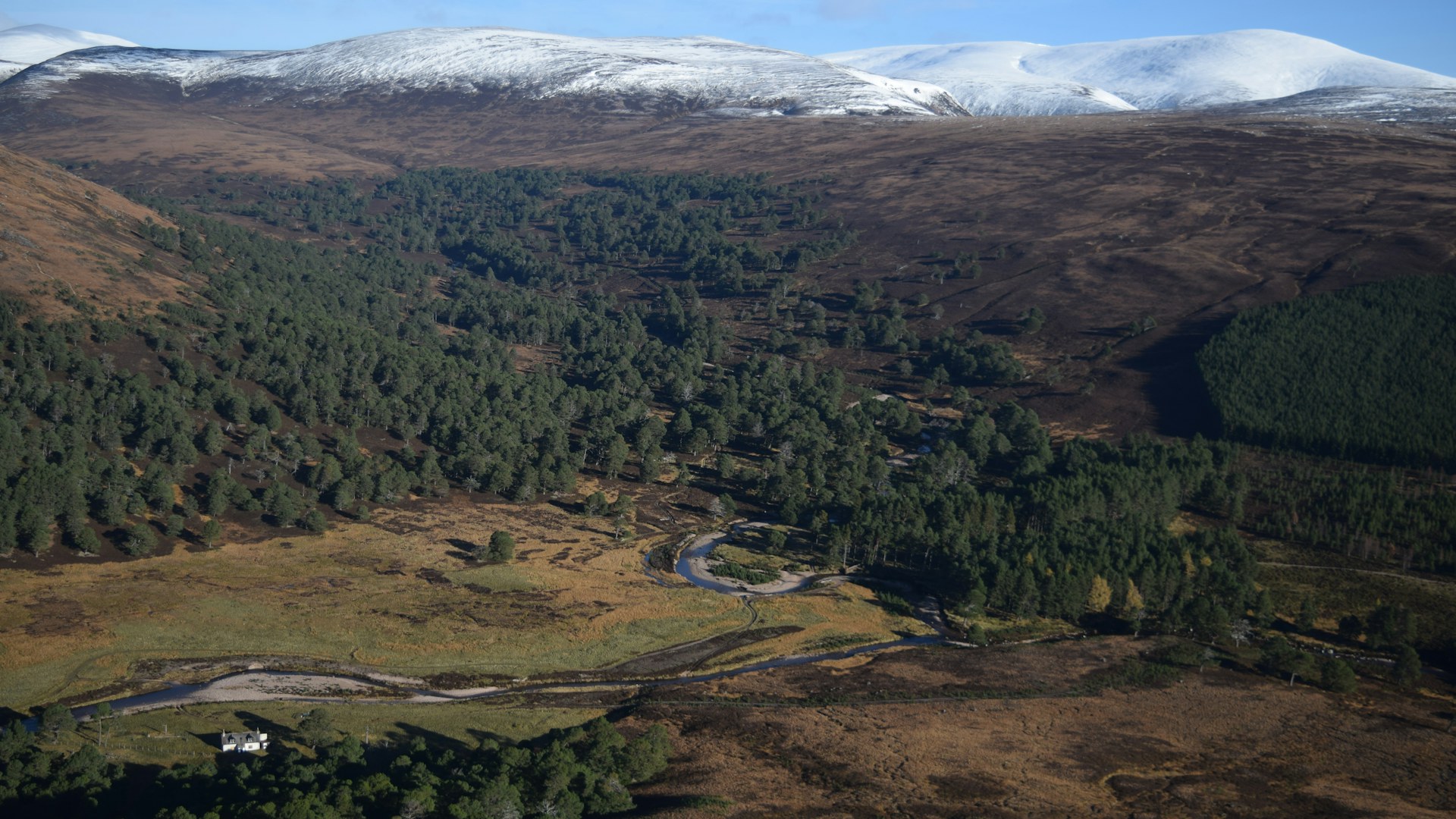 Mar Lodge is a 29,340-hectare estate within the heart of the Cairngorms National Park in Scotland. It encompasses ancient pine forests, blanket bogs, moorlands and high-altitude plateau. Four of the five highest peaks in Scotland can be found here.
Mar Lodge is home to iconic wildlife including golden eagles, capercaillie, dotterel, snow bunting, pine martens and much more. The wildlife has survived despite the pinewoods suffering from centuries of sheep and deer browsing and felling and timber extraction.
The wild beauty of the Cairngorms unfolds around the estate, creating a truly astonishing landscape. The estate is one of the most important areas for nature conservation in the British Isles and in 2017 it was awarded National Nature Reserve status. Over 80% of the estate is covered by European Conservation designations.
The rebirth of the pinewood began 25 years ago, when the National Trust for Scotland began an intensive programme of deer culling across the estate. The aim was to enable trees to grow again by reducing deer populations to a level the land could naturally support.
The results have been outstanding with 835ha of natural regeneration now established and the pinewood restoration well underway. Recovery of montane woodland species such as juniper, dwarf birch and willows is also happening. There has been a return of rare species to the estate, such as hen harrier, as well as an increase in overall wildlife abundance. Over 5,000 species have been recorded at Mar Lodge, many of which are rare or endangered. A total of 30 per cent of the UK's Red Listed birds breed on the estate including curlew, dotterel and merlin. Dipper, common sandpiper, wagtail, otter and salmon use the river. The beautiful ancient pinewoods are home to birds such as black grouse, treecreeper, crossbill and redstart, as well as red squirrels, pine martens and the very rare narrow-headed ant.
Engaging people is also important to the project, which promotes recreation opportunities including hill walking & horse riding, and an educational programme.
KICK-STARTING

REWILDING



Reducing grazing levels has been key to kick starting the rewilding process. Pigs were introduced to the site to complement scarification works in a trial to encourage natural regeneration of tree species. Tree planting was also undertaken alongside deer control to kick-start woodland regeneration in the absence of a seed source.

© National Trust Scotland

© National Trust Scotland

© National Trust Scotland

© National Trust for Scotland
future plans
Continued strategy to encourage natural regeneration through herbivore control
Connectivity with other regenerating woodlands through a joined up approach with partners including Abernethy to the north and Glenfeshie to the west to create a spectacular rewilded area in the heart of Scotland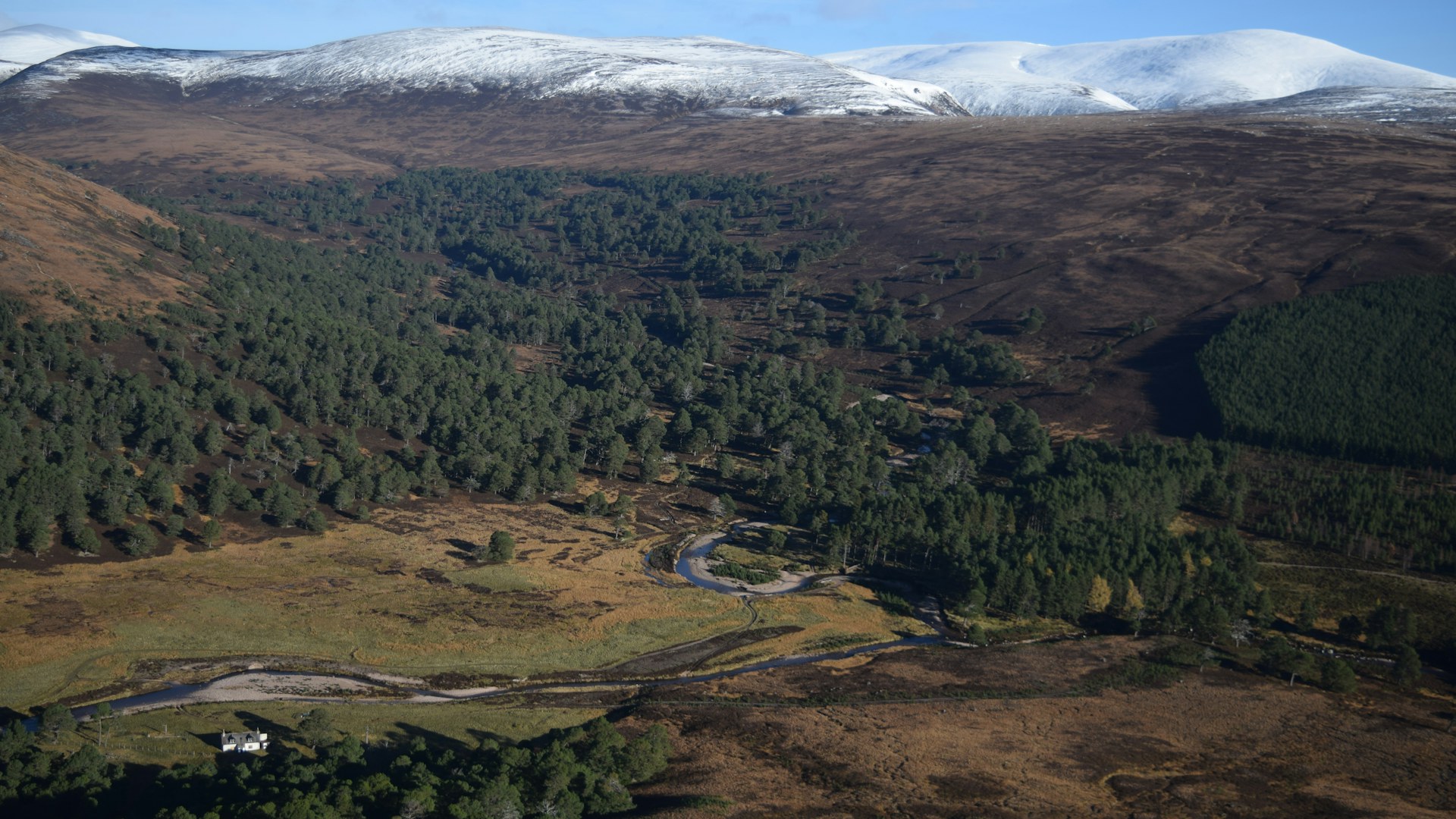 The Rewilding Network
Mar Lodge is part of our Rewilding Network, the go-to place for projects across Britain to connect, share and make rewilding happen on land and sea.
Discover the Rewilding Network